portfolio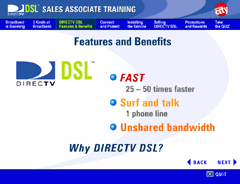 DirecTV
Quick Stats
Client: Events On-line
Project type: Online Training Module
Delivery method: Medium Speed (ISDN) Internet
Technology: Macromedia Flash 5

Description
DirecTV DSL needed an in-store training module for sales associates in Circuit City, Good Guys, and Best Buy stores, and they needed it quick. They contacted events on-line, who turned to us because of our skill in Flash, and reputation for speed and quality.

The result? In just under two weeks, the client was thrilled to discover an eight module, interactive, fully functioning training application. On time, on budget, and more than the client even knew they wanted.
Technical Details
With the exception of the quiz (created by events on-line), the entire application was developed in Macromedia Flash 5. Since the end-user system set-up varied between companies and stores, the application automatically adjusts to the current screen size, and dynamically preloads content based on the user's connection speed.

A completed master application was then re-branded for the three companies.